2022-05-16, new pics page 2; detailing underside and back of neck, reduced length of thumb claws on wings
2022-05-15, new pics page 2; working legs and feet
2022-05-15, new pics page 2; shortening, thickening the neck, increased arch for more threatening look
2022-05-13, new pics page 1; slimming down new head, making legs and feet bigger and longer , re-primed
2022-05-12, new pics page 1; replacing head
2022-05-12, new pics page 1; added shoulders and lats to underside, slimmed down arms
2022-05-11, new pics page 1; working underside, reattached new claws, beefing up and tapering chest and arms
2022-05-10, new pics page 1; detailing top of tail, beefed up back lats, and converted feet to attack pose
2022-05-09, new pics page 1; beefing up and tapering arms and lats, amplified tail ridges
2022-05-07, new pics page 1; adding varying shades to previous base coats
Decided to finally finish painting my bill wieger flying vermithrax dragon from dragonslayer.
Going with classic green and yellowish dragon scheme versus trying a movie accurate color scheme.
Thought about swapping the head out for one of the black heart dragon heads, but decided to just leave it totally original for once.
I have had this dragon hanging in my work area for several years.
See Vermithrax Hanging up behind my last dragon bash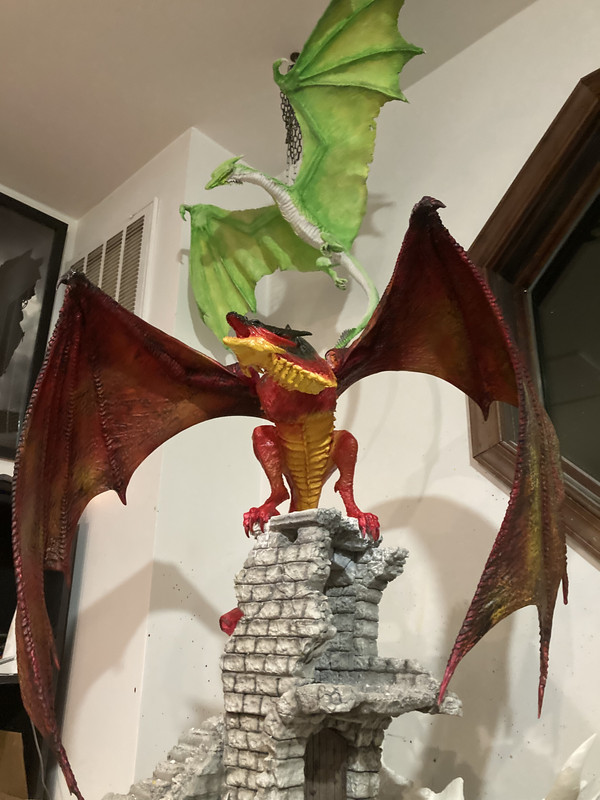 Adding varying shades to previous base coat