I have loved my DF busts line for years, but the Rogue one always irked me. So much so that I hadn't had her on display for quite some time. So, what's the point? Here comes my brain, and I thought why not customize her? What's the worst that could happen? Well, here we are, after years of working on her (with other stuff in between) and I finally completed my customization!
Original: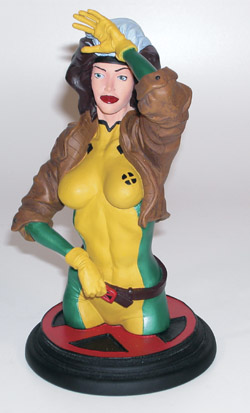 Firstly, her makeup was horrible on the stock bust, as was the skin tone. She looked like pink a clown! Her lips were painted well outside where the sculpted lips ended. And her hand...Her stinking left hand! She's in a "I have the vapors" pose that I could not stand, I don't know what they were thinking, so that had to go too.
I sawed off her arm, which was a pain in the butt to do by hand, but I finally got through it, stripped off all her paint. I then repositioned her arm, no more 19th century fainting couch needed(!), and sculpted her jacket back to cover the seam. I fixed the x-emblem, smoothed out and added in some hair above her headband, that was missing due to her prior hand position, and fixed a few imperfections in the casting. I then gave her some of Gambit's cards to hold, and added in his power too. I guess he snuck a kiss when she wasn't looking!
Not perfect, and I still found a few spots I wish I had changed, like the fact her legs have a small lip of resin in the back I didn't see until I was into painting it, and there is a gap under each thigh where it kind of hovers above the cross sections of the X base, but I'm still ecstatic with the end results. Let me know what you guys think! (The pics came out a bit dark, so she's a little more vibrant IRL.)
More pics and a video here (sorry the pics are so dark, I'm an artist, but not a photographer LOL):
https://photos.app.goo.gl/MSkNpvaxhBzD2ei87
There is shading to her uniform, leather, hair, and powers that the original didn't have. And I corrected the green to look more true to her outfit than that gross aqua green the factory used. Another weird choice that needed to be fixed IMO.
Her hair is finished in a satin varnish that is hard to see in the pics, the white is pearlescent and the brown has metallic highlights. Her uniform is a shiny gloss to look like spandex or shiny vinyl. Her jacket has a mottled worn leather look, with a mottled matte/satin finish too, that added to the well worn look. I'm debating if I should add a pink glow from the power on the cards and her hand, but I was afraid of messing it, so I likely will leave it as is.
It's been over 100 degrees here in Texas for a while, with no end in sight. The humidity has been horrible too, so I had some issues with the end clear coat. It blushed badly, so I had to fix a lot, then try and redo it. This has made me plan to build a paint booth of my own (out of two Ikea "closets,) with a dehumidifier in it.) I think I salvaged it well enough though, so yay for that.
In the end I'm super happy with how she turned out, and she'll be in my collection display shortly.