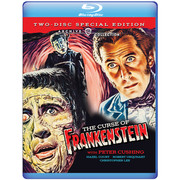 Warner Bros. is finally giving this classic the restoration the film deserves on a 2 disc special due in December 2020.
2020 1080p HD restoration master from 4K scans of preservation separation elements.
Run time is 83 minutes
DTS HD- master audio (English)
Disc one- 1.85:11-16X9 widescreen and 1.66:1-16x9 widescreen presentation of the film and new audio commentary
Disc two- Remastered open matte format presentation in 1.37:11 ratio and loads of featurettes and extras
This is exciting news!