I just had to take another little bite out of the mound of minis from CMON's Blood Rage, the Viking game.
I followed the box art, pretty much, for the figure.
But once again, I had to do a little more with the base. Since he's the MOUNTAIN giant, I had to do some sort of mountains (or hills). Taking some foam, Daps Plastic Wood and static grass, I did the groundwork. (There is a little write up on this in the
Scenic Route's Folder
).
I felt it needed a little more, and got some N/Z scale trees from Ebay. They finally arrived over the weekend, to finish the little vignette. Thanks for looking.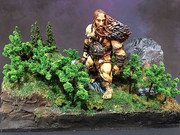 _________________
Kev
~~~
I used to never finish anyth
My little corner of the Net:
http://www.kevtk.blogspot.com