2023-11-10; new pics page 10; reworked right outer wing segment, continuing to refine back of wings
2023-11-07; new pics page 10; modified inner section of wings, refining back of wing fingers
2023-11-06; new pics page 10; continuing to sand and refine wings
2023-11-05; new pics page 10; refining wings
2023-08-31; new pics page 10; added ridges underneath neck, widened, put a coat of primer on to see it tied together
2023-08-29; new pics page 9; sanding, smoothing and thinning out the wing webbing sections
2023-08-26; new pics page 9; repositioned head, slimming down legs
2023-08-07; new pics page 9; almost done roughing in extended wing segment
2023-08-05; new pics page 9; making the wings wider
2023-08-04; new pics page 8; working wing arms
2023-07-22; new pics page 8; refining the wings
2023-07-21; new pics page 8; removed arms and added wings for a Wyvern design
2023-07-19; new pics page 7; working the arms
2023-07-12; new pics page 7; reworking the head, extending and changing neck and head position
2023-06-22; new pics page 6; slimmed down head horns and neck, cutoff arms to prep for repositioning
2023-06-21; new pics page 6; reworking, removed wings, modifying head
2023-01-18; new pics page 6; finished
2023-01-14; new pics page 6; adding eyeballs, cleaning up and detailing paint scheme
2023-01-10; new pics page 5: adding some dark red contrast
2023-01-09; new pics page 5; completed modifications
2022-12-20; new pics page 5; adding more alien details to thighs, calves, tail and arms
2022-12-14; new pics page 5; detailing neck, adding more alien tubing details
2022-12-07; new pics page 5; continued detailing , threw on some paint , almost done with mods
2022-12-06; new pics page 4; detailing neck, adding hip ridges and spikes, added mouth tendons
2022-12-05; new pics page 4; detailing jaw, neck, chest, abs and feet
2022-11-30; new pics page 4; reworking chest and back of hips, thinning out arms, refining legs
2022-11-28; new pics page 4; reworking angle of right leg, beefing up jaw and chest, adding tubing details
2022-11-18; new pics page 4; refined back of head, threw on paint to assess what still needs work
2022-11-16; new pics page 4; roughed in a dragon-ish chest, underbelly, and refining feet
2022-11-15; new pics page 4; smoothing out wing details and making feet smaller
2022-11-15; new pics page 3; reworked the head , made head shorter and narrower
2022-11-12; new pics page 3; refined hands, detailing webbing, reworking feet, roughed in the neck
2022-11-11; new pics page 3; started detailing added wing segments, repositioned hand claws
2022-11-10; new pics page 3; continuing to rough in added wing segments
2022-11-09; new pics page 3; roughing in additional wing segments
2022-11-08; new pics page 3; removed left wing extra segment webbing and removed double toes
2022-11-07; new pics page 3; added tubing details to wings , threw on some paint
2022-11-06; new pics page 3; continuing to attach, enlarge, and detail the wings , modified head
2022-11-03; new pics page 3; started attaching wings
2022-11-02; new pics page 3; finished sculpting the head
2022-11-01; new pics page 3; prepping arms to attach wings, roughed in back spikes
2022-10-31; new pics page 2; repositioned arms for a Wyvern design, more detailing on head
2022-10-25; new pics page 2; replaced teeth, detailed mouth tendons, refined side horns
2022-10-24; new pics page 2; slimmed down lower jaw, replaced jaw tubing, adding mouth tendons
2022-10-16; new pics page 2; continuing to refine the head
2022-10-10; new pics page 2; attached lower jaw, changed angle of the back of the head
2022-10-08; new pics page 2; continuing to add and refine teeth and jaws
2022-10-01; new pics page 2; continuing to detail the head
2022-09-30; new pics page 2; slimmed down head, extending back side horns
2022-09-29; new pics page 2; filled in head horn frame holes, continuing to detail out head
2022-09-28; new pics page 2; modifying head to be dragon-like
2022-09-27; new pics page 1; shortened and adjusted tail, extending head, adding horns
2022-09-26; new pics page 1; modifying a 3D printed head and scratch sculpted lower jaw
2022-09-25; new pics page 1; detailed biceps, attached repositioned tail
2022-09-22; new pics page 1; added alien details to legs, repositioned right arm, threw on some paint
2022-09-08; new pics page 1; detailing feet
2022-09-07; new pics page 1; reworking feet; shortening and slimming down feet, toes and claws
2022-09-06; new pics page 1; changed angle of left leg lower segment
2022-09-05; new pics page 1; attached feet to legs, beefed up thighs and calves
2022-09-04; new pics page 1; adding alien like details to feet
2022-09-01; new pics page 1; roughing in teeth, slimming down head
2022-08-31; new pics page 1; continuing to work feet and claws
2022-08-29; new pics page 1; detailing feet , slimming down head
2022-08-28; new pics page 1; adding 3rd claw, teeth to extended jaws, repositioned thigh and calf segments
2022-08-26; new pics page 1; cut up Xenomorphus Rex to prepare for modifications
Kitbash of Xenomorphus Rex kit and Wings from CM Studios Dino-Dragon.
Plan to:
Modify head to be more dragon-ish
Modify legs for a higher standing stance
Modify feet to have 3 pairs of claws on each foot versus 2
Modify tail to come under arm versus over it
Charlie McGrady was kind enough to cast me an extra set of wings when I bought 2 of his dino-dragons.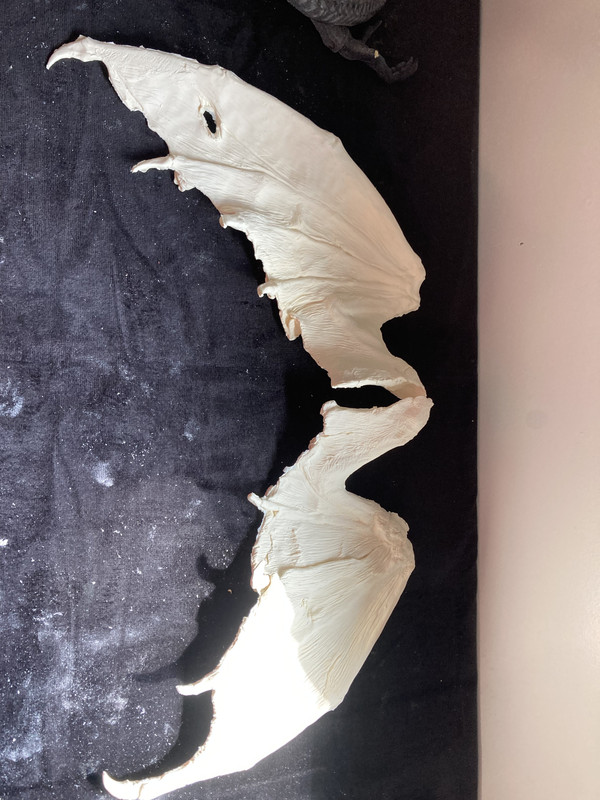 Xeno rex before mods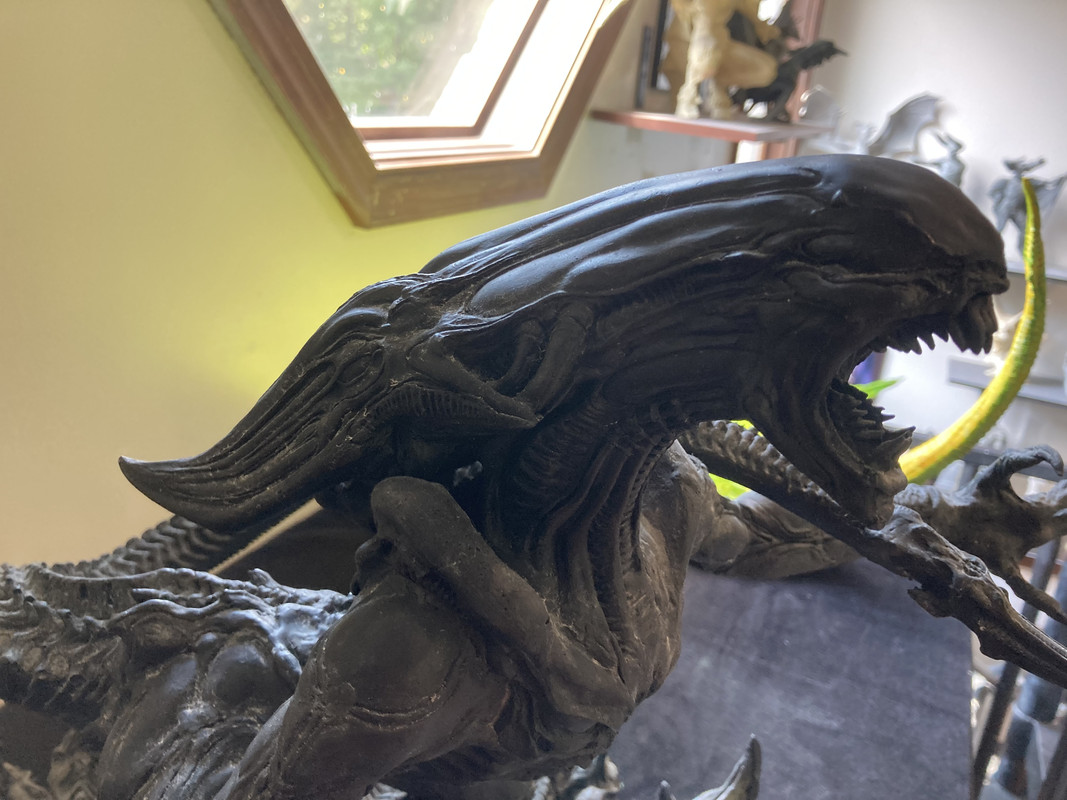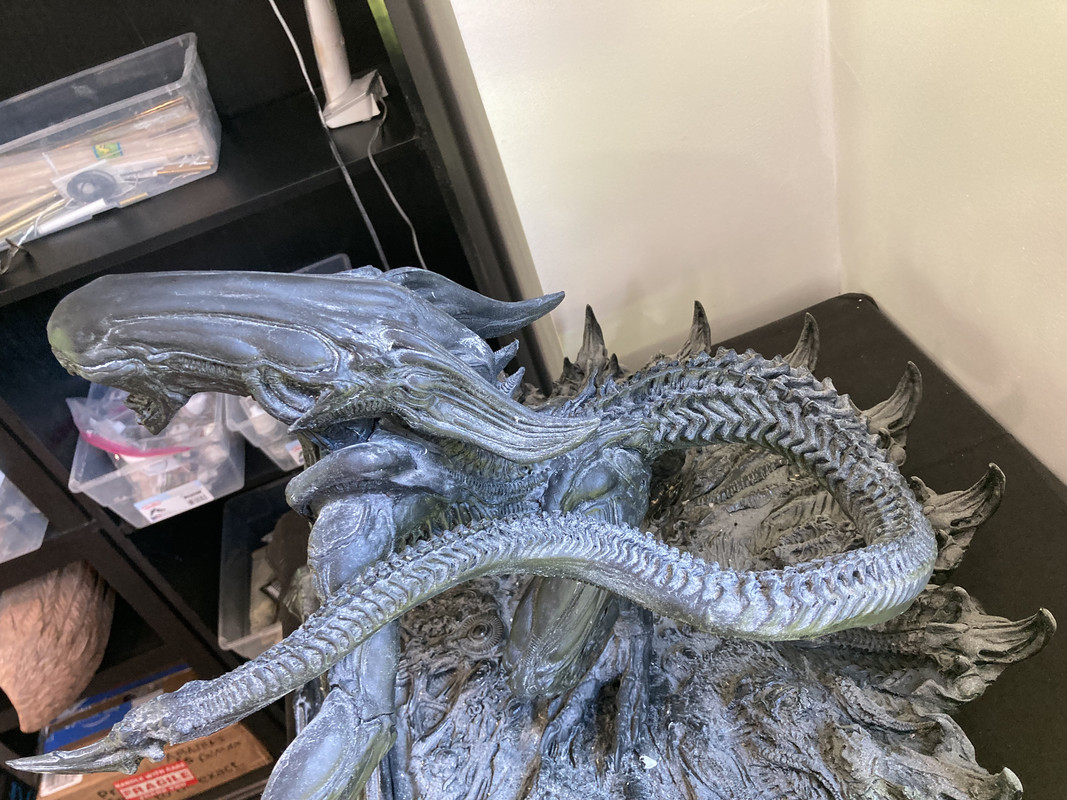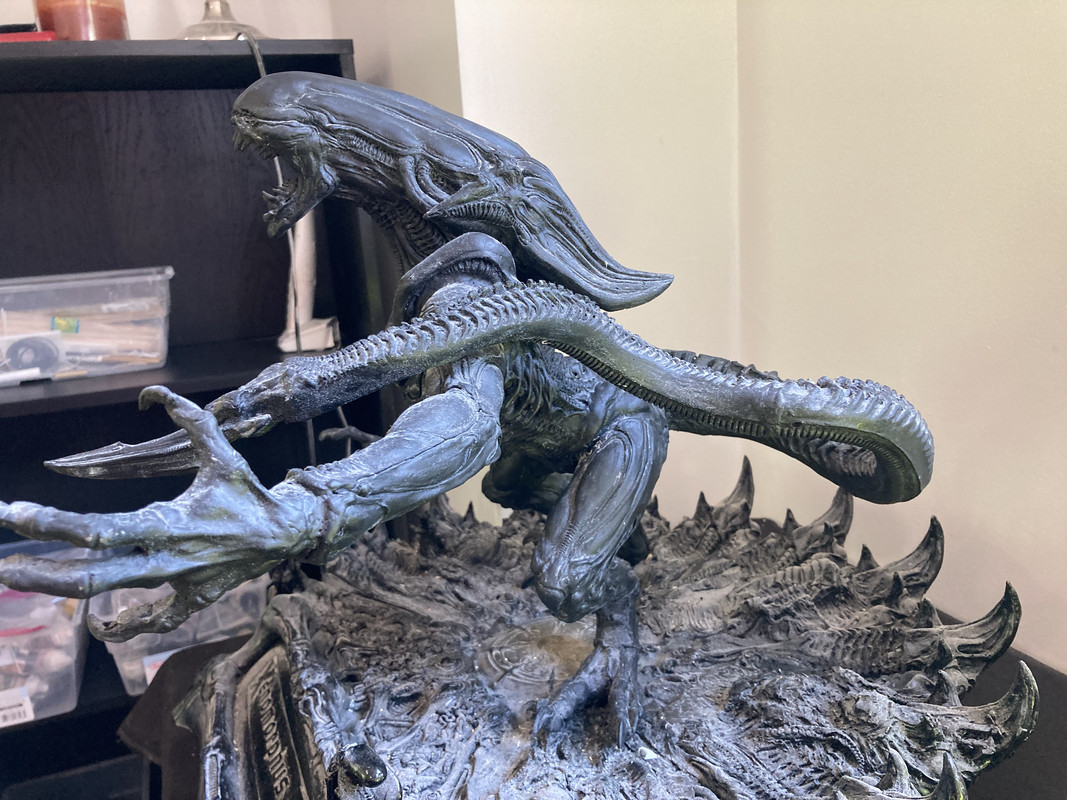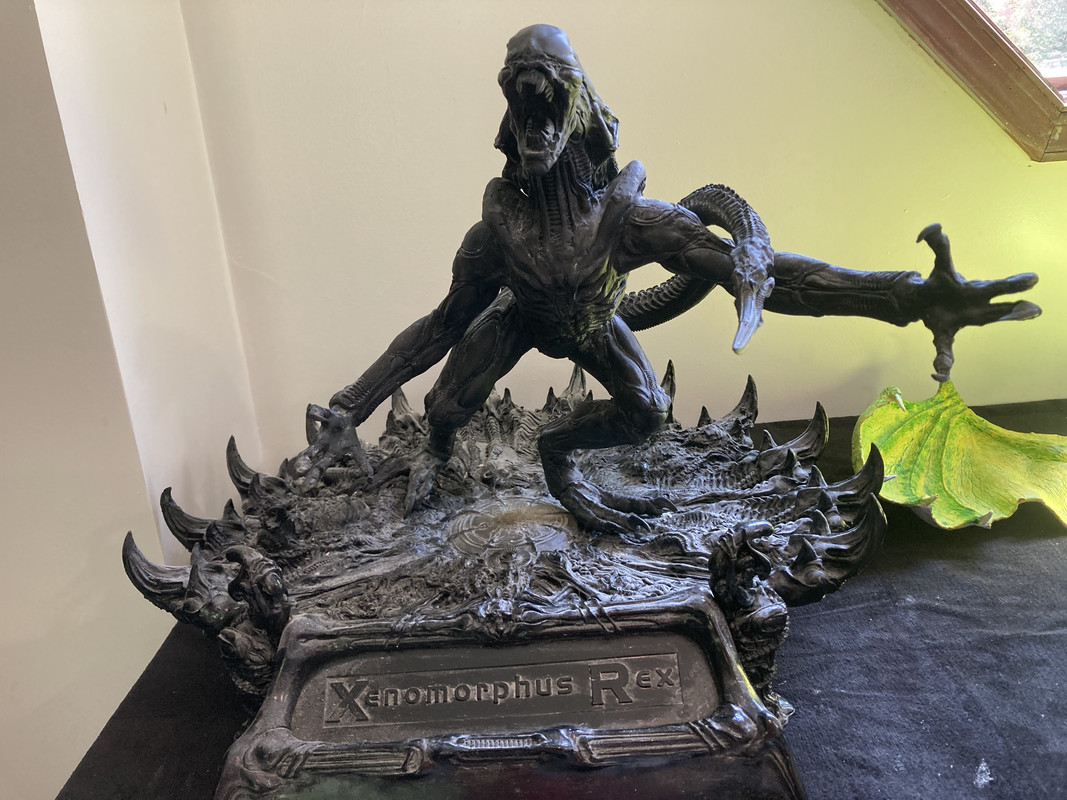 Cut up Xeno-Rex to prepare for mods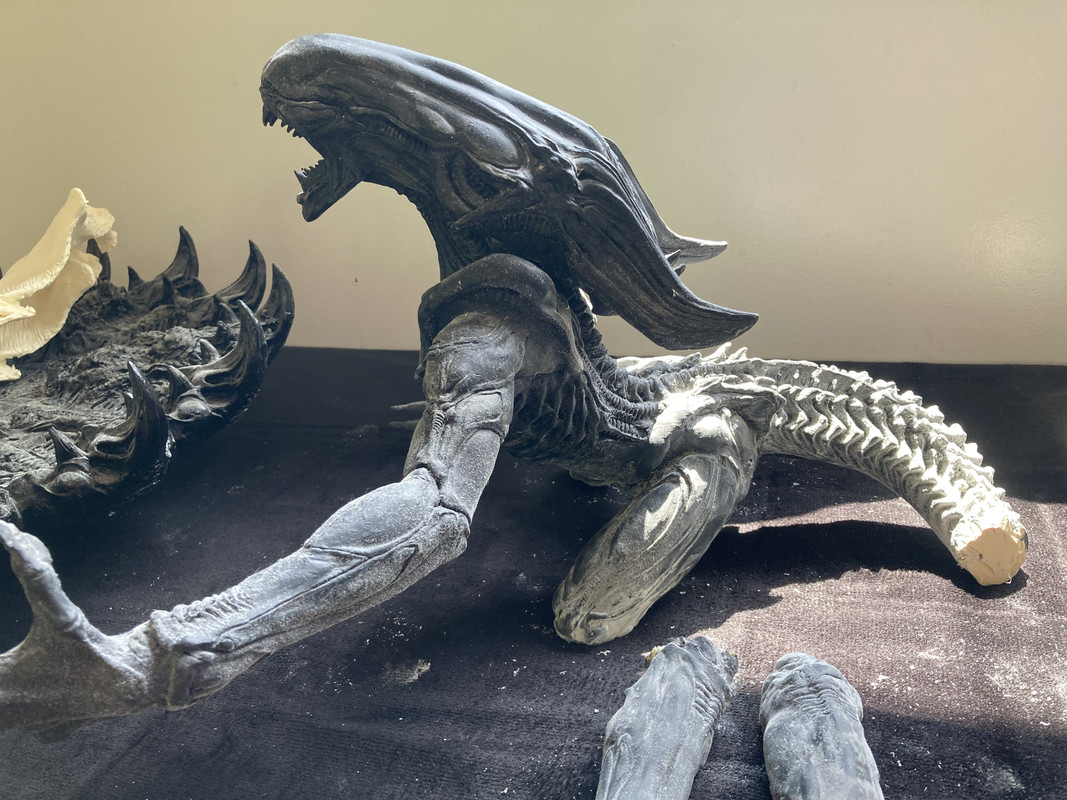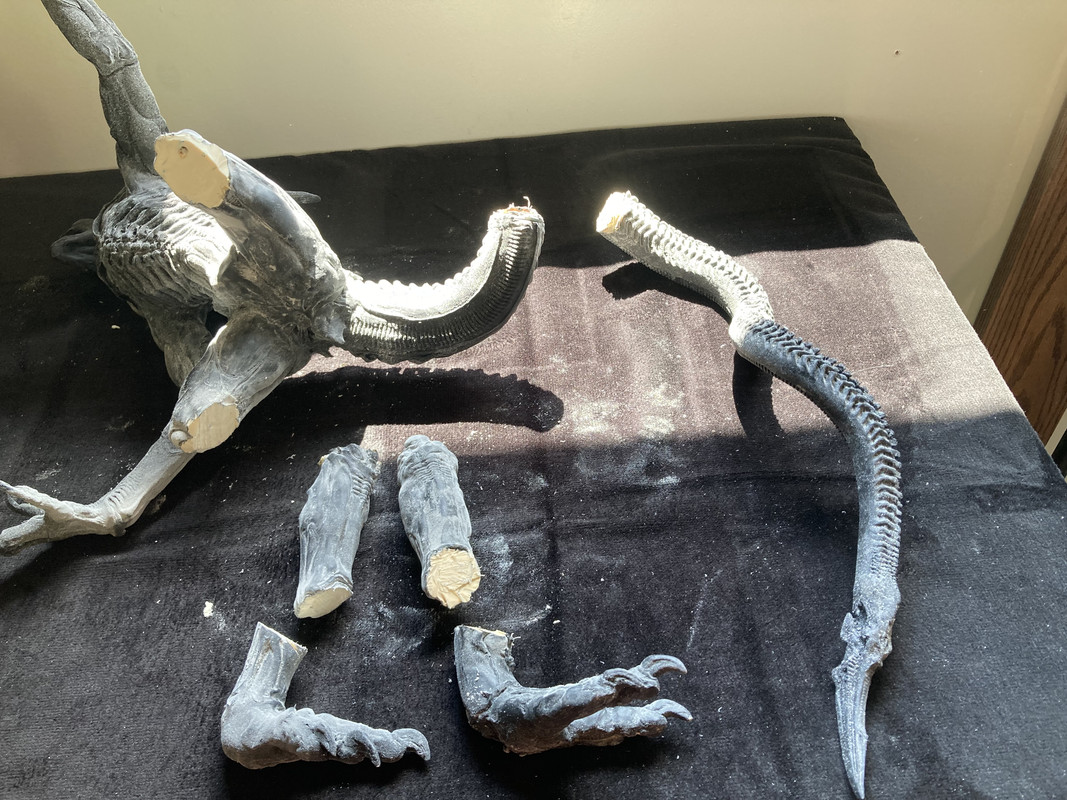 Wings will not be spread this wide, but gives you an idea of the look.
(I will probably make wings bigger like I did for the CM Dino Dragon bash that I did a while back.)