During the lock-down, I had time to photograph many yet undocumented pieces in my collection.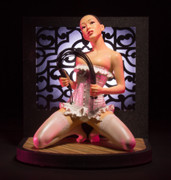 This little lady was produced by a entity named Qman many years ago.
I've been lucky enough to get my hands on 2 of the 6, I am guessing made up the series.
Approximately 1/7 scale. Unlike most pre-paints, she is rendered very nicely and I didn't feel the need to repaint or modify her at all. Just made a base to set her on.
Her series-sister resides over my computer screen.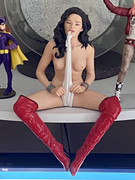 If anyone has a line on a source or one of the other girls from the series you may have and are willing to part with, shoot me a PM.
-CHEERS
_________________
Sample all kinds of plastic, resin & digital goodness at >>>
https://sparkvark.deviantart.com/gallery/?catpath=/