As promised, I will scan the "bonus" feature, "The Furry Season" this weekend and post it on another thread when I'm done. Its quite a bit longer, so it might take a little time.
As far as the "Men of Action" law school comic series, there is a "postscript". Its a story of how I managed to (finally) get back at the NW Law School faculty, so indulge me this little reminiscence. (Those in the Chicago area - Jason & Scott, I'm talking to you
) will particularly enjoy this little tale. So take 5, grab a snack, and enjoy this true story.
On the last day of law school, tradition had the 3rd year graduating class playing a softball game against the faculty at Lake Shore Park, right outside the law school building. The game was played using a Chicago-style 16" softball; a game that is played with NO gloves. You've got to have quick hands to grab that big ball. It ain't easy.
The festivities started early in the morning with, as I recall, a 3rd year outdoor bar-b-cue and party right next to the softball field. The "Old Style*" flowed freely (*those not from the Midwest might not recognize this iconic Midwest beer), or to be more precise, the cans flowed freely.
3 years of pent up frustration and stress were about to be - finally - exorcised.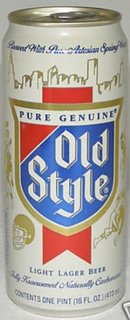 Extra tall 'Old Style' Can
The game worked like this: The chosen Captain of the student team (our contributor-friend "Man E. Ack" whom you met earlier
) would make up a batting order allowing for maximum participation. The game would be extended to 9 full innings as a result, and - this is key to our story - each batter would get ONLY ONE time up to bat. (So, many of the students would never get a chance to get up).
My buddy John - who is from Chicago - had grown up playing 16" softball. Under the loose local rules that we followed, the only "bat rule" was (as John put it) "If you can drag it up to the plate and swing it, you can use it". John was the star of our 16" intramural softball team. Just the year before, his quick hands and slugging led us to a league-best 8-0 record. He was STOKED, and we had talked earlier about wanting to leave off our law school career homering against the faculty.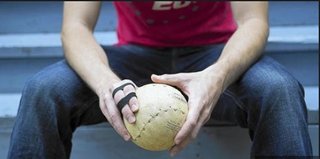 A 16-inch softball
The faculty, however, had an "ace" up their sleeve. One of the younger professors had gone to a baseball fantasy camp the year before and befriended one of the retired pros who ran the camp, namely 20-year Cubs outfielder Jose Cardinal, who had just retired from the Major Leagues a few years earlier. Jose Cardenal showed up as the "ringer" to play for the faculty team.
By game time that afternoon, both John and I had each drunk around 7-8 "Old Styles" at the picnic and were feeling no pain.
I had brought to the game my Adirondack wood blue stained baseball bat (every other grain line was stained a dark blue, making for a very unique appearance). The bat was - 36" long and weighed 38 ounces. The head of the bat was Gigantic. (Coincidentally, these were the exact dimensions of the LIGHTEST bat that Babe Ruth had used, late in his career).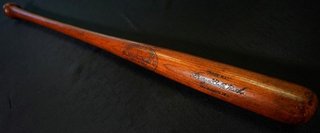 One of Babe Ruth's enormous bats
So - to recap: we had massive imbibing before the game, a giant bat, and The Babe. Keep that in mind.
Just that Spring I had read "Murderer's Row: The Story of the 1927 Season" that had come out that year (1986). Being a Yankees fan, I eagerly devoured the game-by-game account of that epic season. There were great photos in the book, including several illustrating Babe Ruth's batting stance: His weight slightly on the back foot, knees slightly bent, bat held at about 3/4 angle off the shoulder instead of straight up. The Babe had a big leg kick and hand drop that helped him generate his truly superhuman batting power.
That season I, though being a right-handed batter, had emulated this batting stance in our intramural season, without anything near the success that the Babe had, however. I was an OK 16" softball hitter - but my buddy John - he was awesome.
The game started with good-natured cat-calling from both sides. Both male and female students who wanted to bat had their chance. It was all in good fun. John's turn to bat came up in the 4th inning. His name was called, and he eagerly strode to the plate. With uncharacteristic impatience, he took a big cut at the first pitch that he saw ... and hit a two-hop grounder right at the third baseman. Coming back to the bench, with a disappointed and sheepish look on his face he looked at me and shrugged: "I grounded out." (Then he probably went for another "Old Style", but I can't exactly recall.
)
My turn to bat didn't come in the 5th, or the 6th, or the 7th innings. I was beginning to worry that I might not get to bat at all.
But just before the 8th inning, "Man E. Ack", err ... Bob, the manager, turned to me and said: "You're up second." The first batter got on base, and it was my turn to face -
Jose Cardinal
, who had rotated to the position of pitcher for that inning.
Bob Bennett, the Dean of Northwestern School of Law, was catching. I only had him once for Contract Law class 2 years earlier and I doubt that he had any idea who I was.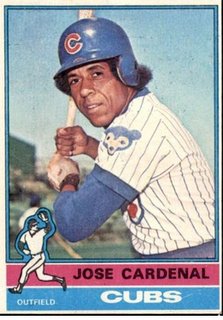 Jose Cardena
l
Feeling no pain after 8 "Old Styles", I strode up to the plate lugging that GIANT bat.
Now let's understand one thing - despite my near 6'6" height and wiry strength, there was NO WAY I could swing that heavy monster quick enough to get a good swing on a chest-high, or even on a waist-high pitch. My only hope - and I knew it - was to get a low outside pitch that would give my extra-long arms time to swing the bat down like a pendulum and hit the ball with a golf-like swing. I took my position far from the plate at the edge of the batter's box, mimicking The Babe's batting stance from the right side.
The first two pitches were "right down the middle" - and knowing I could not hit them well with that long heavy bat, I let them go by. "Are you going to swing?" came the catcall from the smiling Dean Bennett squatting behind me at catcher. "C'mon, take a swing." I then took the third pitch, and then the fourth.
As the fifth pitch flew out of Cardenal's hand, it was obvious that it was going to go low and outside the strike zone ... low and ... outside ... a sure swing and a miss for most batters ... except perhaps for one with an extra long-reach, an extra-long bat, and a natural downward "golf swing". I coiled, dropped my hands, rotated my hips as I stepped forward, and swung the bat, down, down, down towards that ball ... my arms reached maximum extension - and leverage ... the ball was almost on the ground - but not quite - when my bat head impacted it. John told me later that the resulting sound was like a "cannon shot". I had hit that ball maybe 3 inches from the ground. As the roar from our sideline went up and I started running towards first base, I saw the left fielder doing a quick nervous sideways jig, left-right-left, unsure of which way to break. The ball had gone out on a straight line towards him, and before he knew it, had sailed 10 feet over his head, on its way to the tennis courts behind the second softball field where it would finally roll to rest.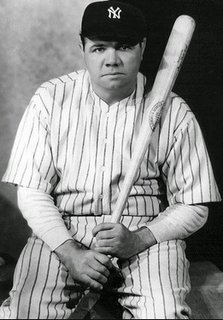 Babe Ruth with one of his bats
Pandemonium broke out on the 3rd Year Students' sideline, with about 200 of my classmates whooping and hollering together as one. I pumped my fist running the bases, while Jose Cardenal playfully ran over from the mound and pretended to drag the second base bag away from me as I approached it. He had a BIG grin on his face. He was having as much fun as I was. Later on, after the game, he graciously autographed my bat.
After I stepped on home plate, I was high-fived by what seemed like 100 of my classmates. When I was done I turned towards the professors' sideline pointed at them and yelled at the top of my voice: "I WAITED THREE YEARS TO DO THAT!!!"
So if any of you are wondering - how could The Babe hit all those major league home runs while hung over - or even while under the influence, swinging bats as big and heavy as telephone poles - well, I don't have an answer for you.
But I DO know this: It IS possible to do, under the right circumstances.
The whole day was a blur (and my head, well, let's just say that it hurt a little bit the next morning
).
When another student introduced me to Dean Bennett at the evening function that followed the game - he grinned at me and demonstrably exclaimed: "I KNOW YOU!" I replied, a bit puzzled: "How do you know me, professor?" He continued with a grin: "I KNOW YOU - FROM THE SOFTBALL GAME!!!" That was my Northwestern University Law School *mic drop* moment, I guess.
And so, for the past 36 years, I have been able to
truthfully
state that "I ONCE HIT A HOME RUN OFF A MAJOR LEAGUER!"
[And BTW, John and mine's "secret identities" as the authors of the "Men of Action" Comix were never revealed to the school. Some things were better left in the shadows.
]
Next up, "The Furry Season"!!! Stay tuned.