My repaint of the sideshow reign of fire dragon bust.
The factory paint was very monochromatic and hid the incredible detail in this sculpt.
Here is the before pic (found this pic on the web, hope it's ok to use as I didn't take a pic of mine before repainting)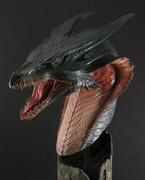 Repainted version.